Deck it Out!: Upcycle a Colander as a Planter for Succulents
Looking for some cute upcycled ideas for summer? Try this colander turned into a planter!
Ahhh… the Victoria Day long weekend in Canada is now over. It always marks the unofficial beginning of summer for most Canadians, and once it is over the weeks until 'real' summer begins seem to fly by. We stayed home this long weekend and tackled many projects in the yard and on the deck. But don't worry – it wasn't all work. We also put our boat in the water and got to enjoy a few fun boat rides as well as some time in the sunshine (which unfortunately only really appeared on Sunday). I have quite a few fun DIY projects that I completed for our deck and today I am going to share a quick little garage-sale find that I upcycled for our deck décor.
I picked up this old colander at my friend Jess' garage sale in her "free" pile. She told me that she had used it in her garden and that got my ol' wheels in my head spinning. I was planning to tackle the deck this weekend so I thought that it had great potential as a little planter for some Hens 'n' Chicks that I wanted to repot. The colander started out a little faded and worn.
Nothin' that a few coats of yellow spray paint couldn't deal with. I gave it a quick wash and dry and then onto business. My partner on this case was:
 I had to do a few coats and flip it around a few times… but I just kept going back to it in between other projects. Finally I was left with this:
I rifled up some gravel from around the yard and added it to the bottom and sides to prevent the soil from overly escaping through all the wholes in the colander. I didn't line it with anything, just the gravel.
I pushed the gravel up the sides a little, forming a 'bowl' as I added a few handfuls of potting soil.
I happened to have an old planter full of Hens 'n' Chicks lying around (literally) that had become fairly full and crowded, so I rescued some of them out of it and gave them a new home in my little upcycled colander.
You could easily buy these cute little guys at a nursery… and the best part is that the succulents just keep on going! They multiply like the rabbits up the road. Those Hens… they love having babies.
A quick, easy and colorful little planter for our deck… I have brought yellow in this year as a key color (surprise surprise) so this guy connects well with what is going on in other parts of the deck. I'll show you more of that really soon!
What projects have you been up to lately? Anything outside? Doing anything for your deck or patio? I would love to hear about it!
Thanks for reading. And remember, my housie friends, HOME isn't built in a day. Enjoy the journey.
This project was featured on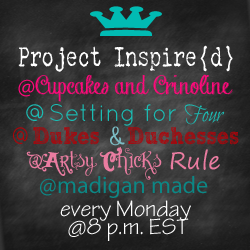 I'm linking up with some of my favourite Housie Parties and