Layered Gift Wrap for Christmas & Free Printable Giant Gift Tags
Layer your gift wrap for a thrifty and pretty holiday touch. Add these free printable giant gift tags to give your gifts this season a graphic and fun feel. 
Are you ready for Christmas?
How many times have you been asked that this week?
I actually am pretty much ready on the gift front this year. I have to admit that it's made the last couple of weeks of holiday events much less stressful since I feel ready for Christmas in at least one area of my life! I've been wrapping like mad the last few days to get everything under our the tree (and out from under-foot in my office).
This year, I went with a Scandi neutral feel to match our Christmas tree and created some new giant free printable gift tags to go along with it. More details on those below…

Today I've joined some friends who are also sharing their holiday gift wrap ideas with you! Be sure to visit their articles by checking out the links at the bottom of today's post. 

Even though they're a bit graphic and large, I'm loving these oversized gift tags. I printed them out, 4 to a page, simply cut them with scissors and attached to each gift as I wrapped. Since I'm not a huge fan of traditional holiday bows, I like using twine and natural ribbon instead. These oversized gift tags, when mixed with the layered paper, give a rustic Scandi type of feel to our holiday gifts. Plus, it was a super quick and easy way to wrap but still really pretty!
Layering Gift Wrap
I love to do a layered gift wrap look on my presents. It's not only cute, but super affordable since you only use a small strip of your pretty (and expensive) gift wraps for each present. I wrap each gift first in brown parcel paper from the dollar store and then add a strip of pretty themed/decor related gift wrap.
Don't you love the lines that are printed on the back of paper now so that you can cut it perfectly straight? Sometimes it's the little things:) 
Layer it up…
I'm nearly done shopping AND nearly done wrapping. Two more days of school and then it's Christmas vacation time around here. I am looking forward to less on-the-go days and spending some relaxed time with family and friends. What are you looking forward to about the holidays? 
Giant Printable Gift Tags
I made similar style gift tags last year, but smaller in size. They, along with these oversized gift tags, are both available for free in my free printable library. 
To download these prints and get access to ALL my free printables all you need to do is be an email subscriber. I add great new printables to my printable vault all year long!   After confirming your subscription you will be sent a link to my google drive with access to all of my free printables.Please allow up to an hour to receive your email and instructions, and check your junk mail folder before contacting me.  If you have any issues after waiting the hour, then email me at krista@thehappyhousie.com and I'll send you the instructions.
If you are already an email subscriber you can access these in the printable library.  The link to access it and the password are at the bottom of every email I send you.
Christmas Gift Wrap Ideas
As I mentioned, today some of my blogging friends are sharing their fresh and fun gift wrap ideas with you! Be sure to check out their posts by visiting the links below the collages.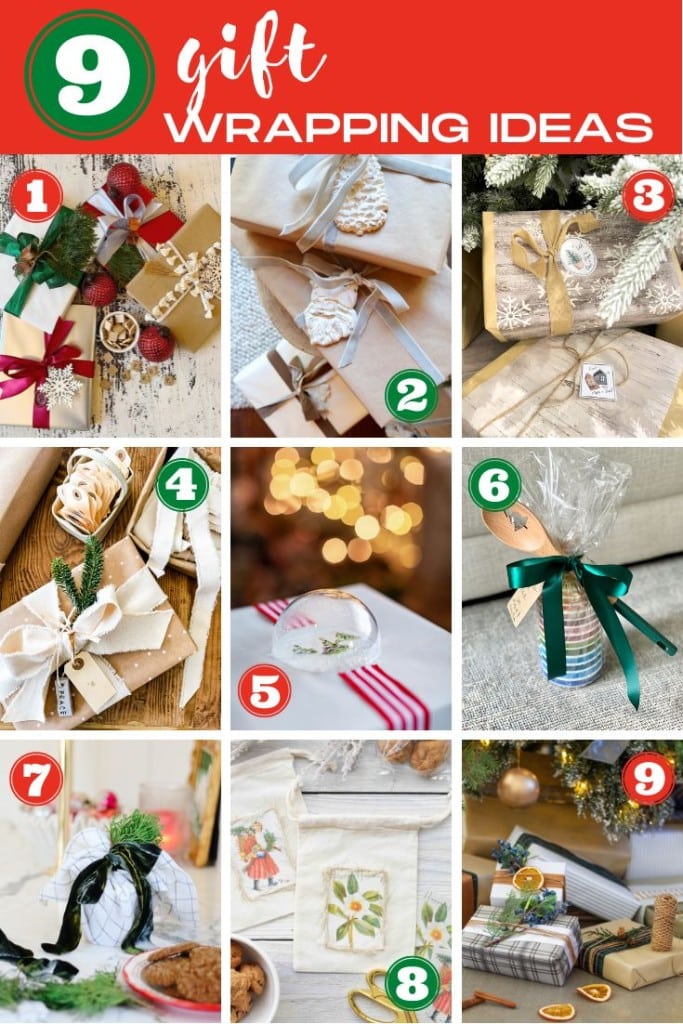 Blogger's Best Gift Wrapping Ideas