Early Fall Outdoor Boho Beachy Table Decor
Today I'm sharing a simple early fall outdoor boho chic beachy table decor inspiration. 
September is a perfect time of year to eat outdoors where we live… it seems that the bugs have died down and the wasps aren't hovering over you the way that they do throughout August.  The temperatures are still really mild, and on a nice evening it's a great way to soak in a little extra light before the long months of winter arrive.
We have a small, round dining area on our deck at the cabin, and it has a peaceful view of the beautiful lake beyond and feels cozy and part of nature with all the surrounding evergreen trees.  Today, I've joined my friend Bre from Rooms FOR Rent, and some other talented blogging friends to share our early fall table decor ideas.  I hope mine inspires you to enjoy a meal or two 'al fresco' before the summer truly comes to a close.
The key to simple table decor is to start with what you have and build from there.
Because we are eating outdoors, I chose to use my melamine plates.  The tablecloth has both turquoise and blue tones in it, so the turquoise plates and blue and white napkins are linked together through the colours on the tablecloth.
I then added natural beachy elements that I already owned, like the interesting pieces of driftwood and the wooden beads.  I kept it thrifty by filling a pair of vases with these gorgeous fresh hydrangeas from my friend's garden as well as Queen Anne's Lace (that grows wild on the side of the road around here).
Round jute placemats ground the plates and add another rustic, textural, natural element.
I hope we get to eat outdoors several times still before the cooler weather and rain make it impossible… with a long winter ahead it's nice to soak in as much of the outdoors as often as we can! It's also nice to enjoy our view before the shorter days mean we are coming home in the dark.
Not such a bad spot to spend the 6 months while we build our new house, is it?
As I mentioned, today I joined my friend Bre as well as 6 other talented bloggers who are all sharing their fall table decor ideas.  I know you'll love all of this stunning inspiration! Just click on the links below the images to be taken to their posts.  Enjoy!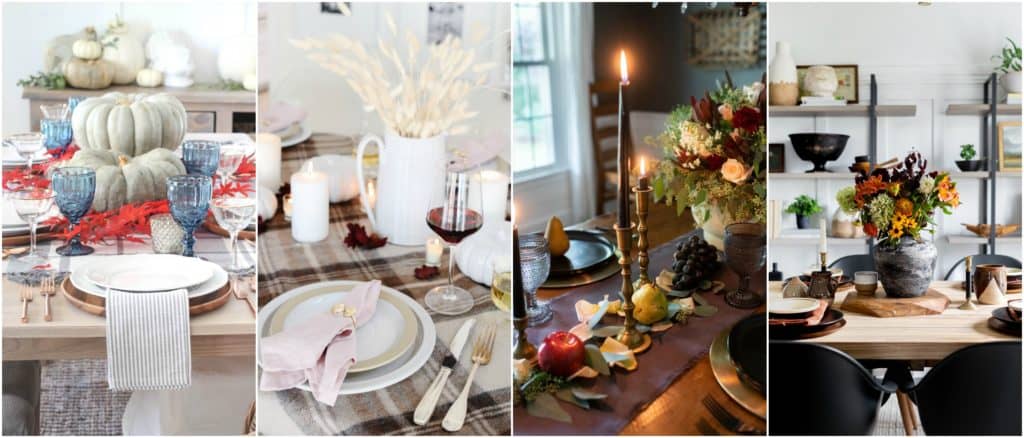 Rooms for Rent | Modern Glam | Nina Hendrick | Craftberry Bush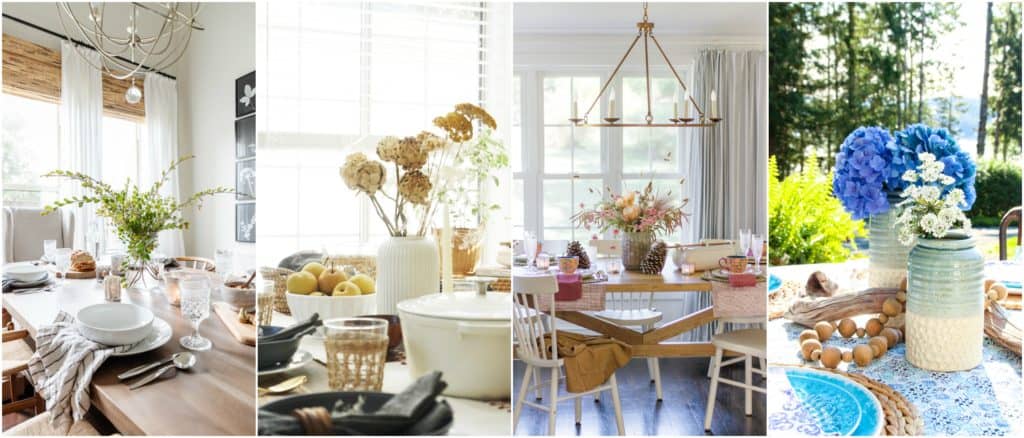 Crazy Wonderful | Almafied | Willowstreet Interiors | The Happy Housie
Want to remember this? Just PIN it!