How to Organize Children's School Work
It finally feels like summer vacation has begun around here. School didn't finish up for me until June 30th this year and then I had a major project due the week after (about which I can't wait to share more details soon!); so it wasn't until today that I feel like summer has finally arrived.
I'm super excited to tackle some organizing jobs this summer that I didn't get to during my ten week organizing challenge, and one of the biggest jobs facing me is dealing with bins full of my boys' school work and artwork.
It's bad, friends. Really bad.
I have YEARS. And I do mean YEARS worth of school work and art work to go through and purge and organize.
But instead of putting it off, as I have every other summer up until now, I'm going to jump right in and tackle it this time! So, just as I started our each week of my ten week organizing challenges by researching the issue at hand;  I started off this week by looking for different ways that people have tackled this organizational challenge in their homes.
And today I have collected 15 of my favourite ideas for organizing and storing children's school work, and I found that these methods generally fit within 5 key methods: bins, file systems, binders, portfolios, and digital albums.
Bins or Totes
Probably the fastest and easiest method for organizing and storing children's school work is simply to place it by grade level into separate bins, boxes, or envelopes. While this method has the advantage of being quick and easy (and perhaps more likely to keep up with as a result of it being quick and easy), it also makes it more difficult to view the work again when you want to enjoy it.
A Manilla Folder/Box Solution and great tips for sorting, organizing, and displaying children's school work at 733 Blog.
Totes Via The Artful Parent
Binders
The second most popular method for organizing and storing children's school work that I found through my research was using some version of a binder storage method. This method has the advantage of being fairly easy to assemble and keep organized and also allows for very easy future viewing. The issue here is that all these binders could really begin to take up a lot of space. Also, larger pieces of art or larger projects can be difficult to store in a binder sleeve.
I love the special additions that she made to this amazingly organized binder system at Make Life Lovely.   You'll want to check out how inspiring her finished product is!
Schoolwork Binders at The Idea Room.
I like how easy it is to see the artwork and projects with this organized binder system – and she also gives some great tips about what to keep and what to purge at Davonne Parks.
Portfolios
One method that I came across and really loved was this idea to use Artist Portfolios. I especially like the idea of using these pre-made porfolios that allow you to store larger art pieces then a traditional binder would. They also seem like they would be fairly easy to keep up with once you got the system into place, but could also end up taking up quite a bit of space depending on how well you purged your selections before storing them.
I love this idea of using an expandable art portfolio from A Thoughtful Place Blog
DIY Artist Portfolios at Modern Parents Messy Kids
File Systems
Many of the solutions for organizing and storing children's school work that I came across involved a filing system of some kind. The advantage here is that you could include all kinds of keepsakes and important documents in a file; and while it is easy to look things up by age or grade; files still don't make for an easy viewing method. But it is definitely easy to put together and simple to keep organized and keep up with once you get it going.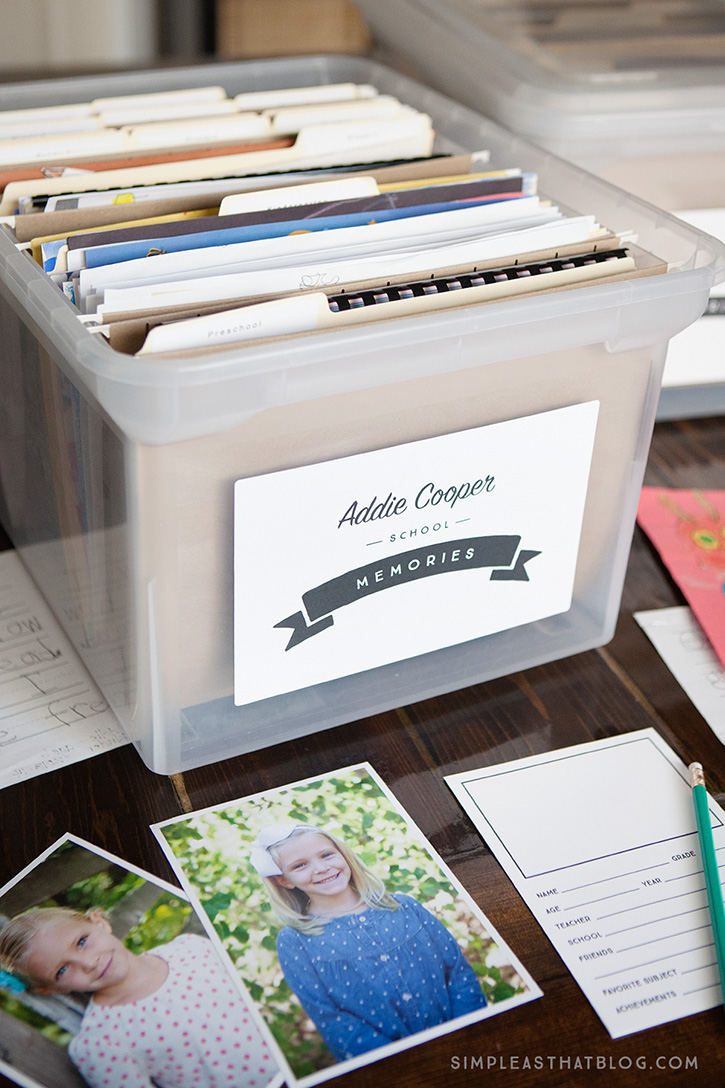 Via Simple As That
School Paper Organization at Just A Night Owl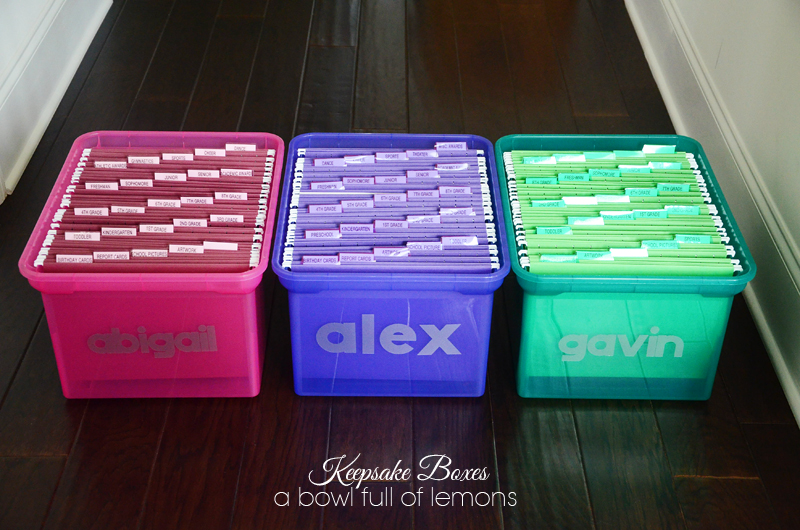 I love this amazing filing system – plus she gives awesome details about keeping a photographic record as well at Honey We're Home.
Organizing into totes at borealis
 Digital Albums
The final method I came across for organizing and storing children's school work was using a scanner and creating a digital scrapbook album of you children's work. I absolutely love how gorgeous the finished product looks, and the books are definitely small enough that they are easy to store while also allowing for maximum viewing. But I'm not sure about actually getting rid of all the physical pieces. Isn't there something special about actually holding the object in your hand?? It's like that whole debate about books versus E-readers. There is something different about holding the actual object then having a digital image of it. While I love the gorgeous appeal of these types of scrapbooks, the jury is still out for me on whether I could actually purge the real-life-artwork. I might have to keep both the album and the original!
A Book of School Projects at Zig and Zag Blog
Kindergarten School Work Album at All For the Memories
I also found some awesome Free Printables for organizing children's school work that you may be interested in!!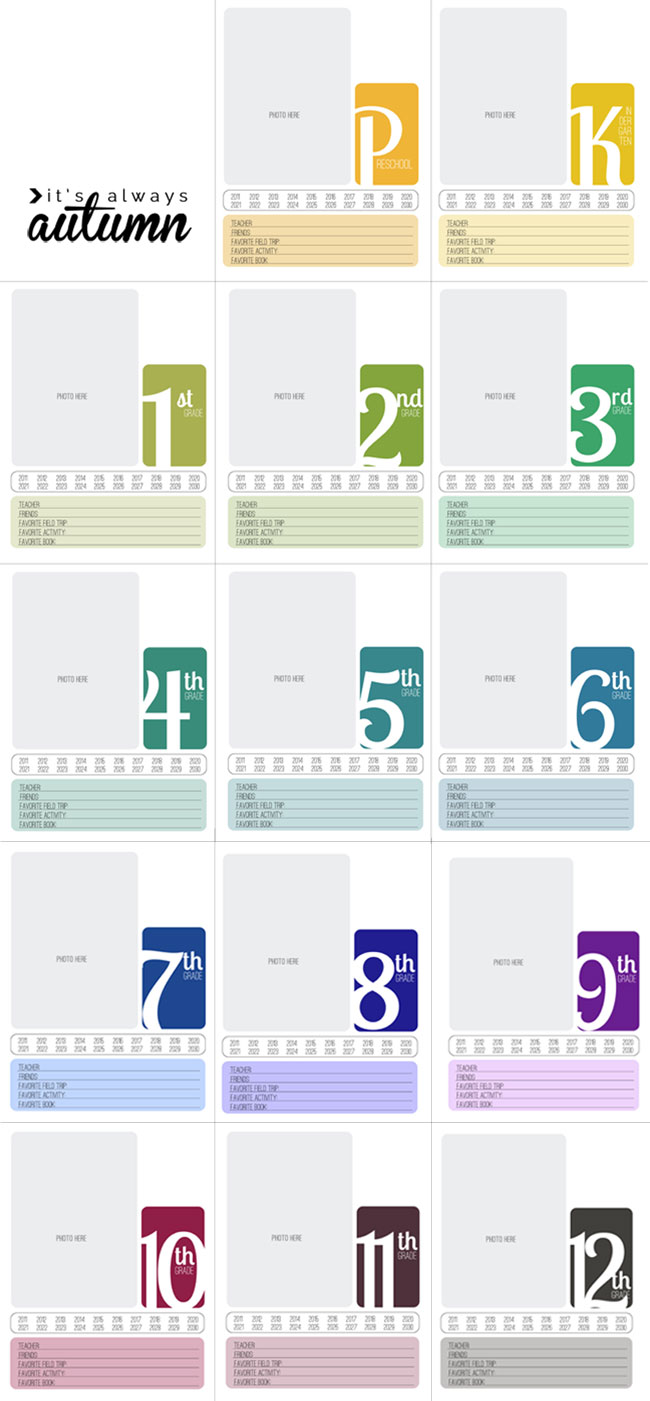 Back to School Binder with Free Printables at Martha Stewart
Want to remember this?
I hope you found some inspiration and ideas to use in your own home!
I'll be back soon to share which option I went with and how it turned out. Wish me luck!

Save
Save
Save
SaveSave