Does that ever happen to you? You have an idea in your head of how your project is going to turn out and then you get to some crucial stage and all of a sudden that baby takes a major sudden nose-dive….
Your palms start sweating so much that you can hardly hold the paintbrush? Okay, maybe that part is a little over-dramatic… but it seriously sucks when you think your beautiful vision-of-a-project is about to fail.
Thankfully I managed to rescue this one.
After a big to-do, these pink and gold chalk painted Mason Jars are what I have to show for my attempt. Detes on the alm0st-fail coming up.
To make these I used:
Mason jars, gold spray paint, Country Chic Chalk Paint in Cherry Blossom, Sandpaper, Gold Wax
My vision was that I would spray paint the jars, then chalk paint them in pink, and lightly distress so that the gold spray paint was showing through. That would have been beautiful, right??
So, I started by giving my Mason Jars a few coats of spray paint on the outside of them.
(In retrospect I could have painted the insides, I wonder if the gold would have shined through the glass nicely. What do you think??)
Once the gold spray paint was dry I gave them a couple of coats of the Cherry Blossom Chalk Paint.
I let the jars dry overnight and then TRIED to lightly distress them with some sandpaper.
This is where the almost fail comes in.
The cherry paint was NOT the only paint that came off. In my vision-of-a-project, the Cherry Blossom Paint distressed nicely revealing the beautiful gold underneath.
In my reality-of-a-project, the gold came off (mostly) with the 'distressing' as well.
In some spots I was able to distress and keep the gold intact… ah well. They can't all go as expected I guess.
I wanted to add a little bit of extra golden sheen so I used some of the Country Chic Gold Wax.
Can you see the difference between the pre-wax and post-wax jars?
I love how the gold wax gave the jars a coral sheen.
I decided the leave the wax on for a few days to dry out so I could keep as much of it on the jars as possible- it has such a pretty look. After a few days I gently buffed off the excess with a dry cloth.
Done!
So what does one do with three coral/pink/gold chalk painted mason jars? Use them for spring flowers of course!
And on Friday I will be back to share how I used these on our latest Mantelscape. I am loving the pastel and gold together!
Like this?
Pin it to remember it!
 This month I have teamed up with 11 other fabulous crafty blogger gals to share some amazing May Flowers themed projects… each of the images below are a direct link to the project! I can't wait to visit them all myself!!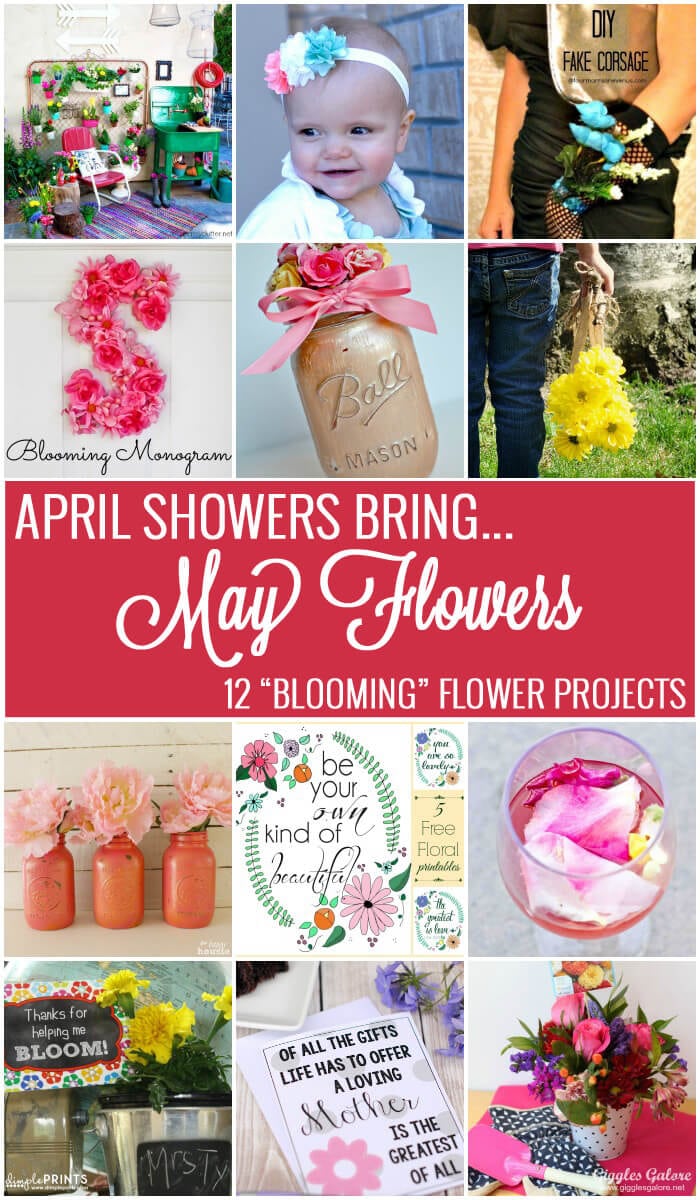 Classy Clutter |  Bombshell Bling  |  Four Marrs One Venus
That's What Che Said…  |  The Cards We Drew  |  Cherished Bliss
The Happy Housie  |  52 Mantels  |  Sweet C's Designs
Dimple Prints  |  Crazy Little Projects  |  Giggles Galore
Have you been up to any flowery projects lately? If you have I would love it if you would share them with us at the Get Your DIY On Challenge: May Flowers… the part is still going strong! Head over there now to share your goods!
And don't forget to enter the amazing Giveaways I have going on right now….
Click here to enter the $350 Mother's Are Amazing Cash Giveaway
And here to enter to win a $550 Amazon Gift Card!
 So have you ever had a craft fail? Did you turn it around??
Any tips for painting glass that you want to share with me??
 Thanks for reading. And remember my housie friends, HOME isn't built in a day. Enjoy the journey!
Disclosure: I am a member of the Country Chic Blog Squad for 2014. I receive free products in exchange for sharing tutorials for using them. All opinions are 100% mine of course!
I may link up at some of these fabulous places below, for more info check out housie parties:
Make the Scene Monday , Monday Funday , Give Me the Goods Monday , Inspiration Monday, Craft-o-Maniac Monday, Nifty Thrifty Tuesday, Tip Junkie, Project Inspire{d} , Inspire Me Tuesday, The Scoop, Hit Me With Your Best Shot, Wow Me Wednesday Whimsy Wednesday , Fall Into Fall , From Dream to Reality, The Inspiration Exchange, Live Laugh Rowe Live Laugh Linky, Thursdays Are Your Days, The Weekly Creative , The Creative Connection, Inspire Me Please, Catch as Catch Can, Fabulously Creative Friday, Party Junk, Pinworthy Projects , Link Party Palooza,, Weekend Bloggy Reading, Strut Your Stuff Saturday, Spotlight Saturday, Get Schooled Saturday, Overflowing With Creativity , , Suburbs Mama , That DIY Party