DIY: A Little More Chalk-Paint-Love- Our Laundry Room Door Revamp
I updated my laundry room door with a fresh coat of chalk paint.
So yesterday was the big confession. About my love. For chalk paint. You might call me obsessed. But if you do, you may want to stop reading now… because I can promise you that this is not the last time I will be obsessing talking about it:)
Remember the laundry room before the ongoing revamp? It is now well on it's way to being completed, and today I am here to show you my little door 'brighten-up' project. It was so dull and blah in there before… remember? Basic boring white.
This is not the look we wanted (except for the adorable two year old, of course). We wanted some life and energy to cheer us up on our way out the door in the morning… and to add equal cheer on the way back in at the end of our day. So the door needed to be addressed. It was a big white boring blob.
Now enter a little 'Aegean Teal' homemade chalk paint. But with a metal door, PRIME PRIME PRIME first (just in case… so you don't end up with an epic fail/catastrophe like I did with my melamine Pantry Doors).
See my Cabinet Door post for a better tutorial, but these are some quick pictures I snapped along the way.
And, after two coats, here we go. A much more cheery updated feel, don't you think?
I am thrilled with the results – it is really fun and cheerful and I LOVE this colour. The chalkboard is fun too; I can even write myself little reminders on the door about things that I NEED to remember in the morning (I am notoriously forgetful on my way out the door…). I will be back tomorrow with a little tutorial about the frame wreath on the door, too.
Please feel free to say hello if you drop by – I love comments and will reply to each one:)   And remember, my housie friends, HOME wasn't built in a day. Enjoy the journey!
This project was featured at: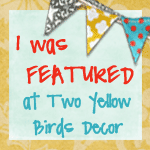 I am linkin' up this post to:
Tatertots and Jello Weekend Wrap Up Party