Easy DIY Burlap and Floral Strip Pillow
If you saw my post the other day about Fall-ifying the Living Room, you may have noticed the long Burlap and Floral-fabric Strip Pillow on our 'falled' out couch. Well after a few emails about it I am here today to share with you how I whipped that bad boy up in a matter of only a few minutes.
To make this pillow you will need:
burlap and floral fabric
scissors or a rotary cutter and cutting mat
a sewing machine
an iron and ironing board
Start by measuring your pillow form. My form was 16″ tall by 24″ wide.
Now use some paper to sketch out the sizes you will need your fabric to be.
My planning went like this:
I knew I wanted to sew one LOOOONG strip of fabric together and then fold it in on itself to sew a simple one piece envelope pillow. If you aren't familiar with how to do this – you may wish to review my basic straightforward instructions here. It will likely help you understand the rest of this process.
I decided that I wanted an 8 inch strip of the floral fabric (on the FRONT only) in the middle of the pillow. The height of my pillow was 16″ tall and I needed to add a 1/4″ seam for each side of the floral fabric. This meant that I cut a piece of floral fabric at 8.5″ wide by 16″ tall.
I then need two pieces of burlap to attach to each side. I knew I wanted my loooooong strip to end up being double the width of my form (24″+24″) plus an additional 8″ to overlap at the back for the envelope enclosure. This meant I needed the loooong strip to be 56″ long. I cut my two burlap pieces at 28″ each by 16″ tall. Here is how I sketched it out:
Okay… once your measurements are figured out… measure your fabric and cut it…
(I used a rotary cutter and mat but you could always mark your fabric lightly and cut it with scissors.
I didn't hem the edges of the burlap with a folded over edge… instead I just used a back and forth stitch on my sewing machine and finished the edges this way:
Reinforcing the burlap with this kind of machine stitch is recommended because of how burlap frays and pulls otherwise.
I sewed the burlap to the floral fabric using this same kind of stitching and "hemmed" the two edges that would be on the back of the pillow making the envelope enclosure.
Once my looooong strip was sewn together I folded right sides together (the pretty sides that you will see are facing into the center together),
then I measured the length (to 24″) and pinned it….
Finally… time to do some more back and forth machine stitching down the sides of the pillow and finish this baby off! (pro sewers- I am sure that stitch has a different technical name… feel free to enlighten me in the comments section:)
Turn it inside out… and you are done!!
It is really quite easy and quick- once you figure out the math (not necessarily my strength) and measure it all correctly before cutting!! Once you tackle that hurdle the rest is pretty smooth sailing. Though sewing burlap does add a little extra dimension because of using the back and forth stitching rather then a quick straight stitch.
I'm pretty happy with the results….
I love the way the subtle colour and rich texture of the burlap tone down all the color and pattern in my floral fabric choice…
The floral fabric is part of the same series as the fabric on the white chairs (I made those pillows as well) and it is by Waverly – the fabric on this pillow is Waverly Button Blooms Confetti, and the coordinating fabric on the white chair pillows is called Waverly Pom Pom Play Confetti. I bought all of mine through Fabric.com but they seem to be out of the Button Blooms print right now. The faux bois is called Willow yellow by Premier Prints, and I bought the black and white chevron from Michael's Craft Store in a 1yard package.
Nothing says fall like burlap (oh yeah, and chalkboards and mums and pumpkins….okay I guess a lot of things "say" fall:)
In case you have missed anything… here are some of my other recent 'fall' projects (picture is the link):
What projects have you been up to for fall decorating? Any fall pillows on the horizon? How about pumpkins? Or porches? Hey… those all start with P. Crazy.
Thanks for reading. And remember my housie friends, HOME isn't built in a day. Enjoy the journey.
 This was featured at!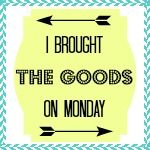 I may link up at some of these fabulous places below, for more info check out housie parties:
Make the Scene Monday , Monday Funday , Give Me the Goods Monday , Inspiration Monday, Craft-o-Maniac Monday, Project Inspire{d} , Inspire Me Tuesday, The Scoop, Wow Me Wednesday Whimsy Wednesday , Fall Into Fall , From Dream to Reality, The Inspiration Exchange, Live Laugh Rowe Live Laugh Linky, Transformation Thursday, Thursdays Are Your Days, The Weekly Creative , The Creative Connection, Fabulously Creative Friday, Party Junk, Pinworthy Projects , Link Party Palooza,, Weekend Bloggy Reading, Strut Your Stuff Saturday, Spotlight Saturday, Get Schooled Saturday, Overflowing With Creativity , , Suburbs Mama , That DIY Party