Summer Drinks Hostess Gift Idea and DIY Cork Coasters at Twelve O Eight
I am really excited to share a fun, simple Summer Drinks Hostess Gift idea that includes the DIY Cork Coasters that I am sharing about over at Twelve O Eight today.
 We were recently invited to spend a couple of nights visiting some friends who live a few hours travel from us and were so excited to for the opportunity to catch up with them. We try to get together with these friends and have a visit every summer and whenever we visit their home they are incredible and gracious hosts. To thank them for their amazing hospitality I wanted to create something personal and fun this year so I started with some DIY Cork Coasters created with fun, summery scrapbook paper. Check out my DIY instructions for this project today over at Twelve O Eight.
Before starting I pinned a ton of ideas for DIY Coasters and then settled on my own design… you can often tell what type of projects I am planning by my pins! If you want to I would love to have you follow along with me on Pinterest
To go along with these fun outdoor coasters I wanted to create a Summer Drinks, or summery outdoor beverage themed Hostess gift. I found a cute little crate style box and added some pretty yellow gingham ribbon around it. Then I packed the box with some pretty outdoor plastic glasses and a coordinating pitcher.
Look at the pretty napkins I added! Plus I threw in a couple of bottles of flavored Perrier.
These napkins are perfect complement to the DIY Cork Coasters.
I wrapped it all up in cellophane tied with twine and added a little tag style gift card that I made from some cardstock and burlap.
One tip: when you buy your glasses, make sure they all come apart- once we arrived at our hosts' we discovered that two of the glasses were glued together and would not come apart. How frustrating!! Ahh… you can make something pretty but it certainly doesn't make it perfect:)
I would love for you to check out my DIY Cork Coaster Project as well!
Do you bring along a hostess gift when you go for overnight visits? What ideas do you have for a fun hostess gift? I would love some inspiration for our next trip away!!
Thanks for reading. And remember my housie friends, HOME isn't built in a day. Enjoy the journey.
 This was featured by!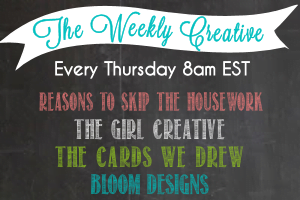 I may link up at some of these fabulous places below, for more info check out housie parties:
Make the Scene Monday , Monday Funday , Give Me the Goods Monday , Inspiration Monday, Craft-o-Maniac Monday, Party in Polka Dots, Project Inspire{d} , Take a Look Tuesday, TCB Get Your Craft On. Tasteful Tuesdays., Share It Link Party, Assets and Efforts, Inspire Me Tuesday, The Scoop, Wow Me Wednesday Whimsy Wednesday , Swing Into Spring Party, From Dream to Reality, The Inspiration Exchange, Fine Craft Guild , , Work it Wednesday, Thursday's Temptation, Hookin' Up With House of Hepworth's, Live Laugh Rowe Live Laugh Linky, Transformation Thursday, Thursdays Are Your Days, Real Family Fun, Pinterest Power Party,, The Weekly Creative , The Creative Connection, Fabulously Creative Friday, Party Junk, Pinworthy Projects , Weekend Wrap-Up Party, Weekend Bloggy Reading, Strut Your Stuff Saturday, Spotlight Saturday, Get Schooled Saturday, Overflowing With Creativity , Sundae Scoop , Suburbs Mama , That DIY Party