Happy Canada Day eh!! Canada Flag Pallet Sign
Today is our national holiday here in Canada and in celebration of Canada Day I want to share a How-to for a Canada Flag Pallet Sign. I whipped up this quickie DIY to use in the redesign of my oldest son's bedroom…. but now that I see it finished I totally love it and think I need to hang this puppy proudly on our deck!
We created the sign out of pallet boards using the same method as I previously shared for our reclaimed wood sign  in the Entry Hall and the Reverse Ombre Pallet Sign for our bedroom.
We started off with one of the boards from this fabulous score of a pallet I picked up a few weeks ago…

 Remove a board. Then remove all nails from said board.
Decide the length you want for your sign. Cut your board appropriately.

Select and cut some wood to use on the back of the boards to join them together. We are still using leftover paneling from our Laundry Room.

Predrill the wood so that you don't split it into a bazillion pieces when you screw through it.

Check out how this does a nice little job of keeping the pallet boards together.
Tip: Make sure your screws are an appropriate length so you don't see their nosy tips poking through the front of your pallet sign.

Here is how the pallet sign looks from the front. The black dots are where nails have been removed.

Prime and then paint your pallet sign. I used a water based primer and brush followed by a coat of white trim paint (Benjamin Moore's Cloud White).

Print out a Maple Leaf design. You can find one by 'googling' Canada Flag design (or other similar terms).

Colour along the back of the maple leaf, creating homemade 'tracing paper'. I like to hold my paper up to a window to facilitate my view of the image.

All coloured along the back. "Tracing Paper" complete.

Determine appropriate placement of your maple leaf. I measured the sign, found and lightly marked the center point (top and bottom), and then lined up the center of the leaf with this point.

Measure and mark the lines for the red stripes. You can look at an image of a real flag to get the approximate spacing.

Trace over the lines on the front with your pencil, thereby transferring the image onto the pallet sign.

Check and make sure it is transferring correctly before moving the design. It would be hard to line it up again properly if it was not transferring through a strong enough line to see.

Gather red craft paint, a small dish, and craft paint brushes (I recommend a fine point brush for outlining and larger brushes for filling it all in.


After outlining with your fine brush, fill in with your wider brushes.
I did two coats of red.

Now I can't wait to see it up in my son's bedroom… if it makes it that far and I don't hang it outside first:)
Some cool things you might not know 'bout Canada:
Canada is the second largest country in the world by size but is the ninth most sparsley populated country in the world
The border between Canada and the US (including the border to Alaska) is the world's longest border between two nations
Canada has the world's longest Coastline
Canada has two official languages: English and French
What about ten things you should never say to Canadians?   All in good fun I'm sure, eh??
If you haven't already I would love to have you join me on Facebook. I am starting to post projects and ideas that don't make it to the blog.
 Thanks for reading! And remember my housie friends, HOME isn't built in a day. Enjoy the journey.

 This project was featured at: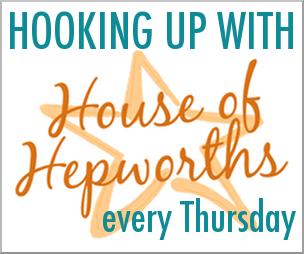 I may link up at some of these fabulous places below, for more info check out housie parties:
Make the Scene Monday , Monday Funday , Give Me the Goods Monday , Mop It Up Monday , Craft-o-Maniac Monday, Pretty Things, Party in Polka Dots, Project Inspire{d} , Take a Look Tuesday, TCB Get Your Craft On. Tasteful Tuesdays., Share It Link Party, Assets and Efforts, Inspire Me Tuesday, Wow Me Wednesday Whimsy Wednesday , Swing Into Spring Party, From Dream to Reality, The Inspiration Exchange, Fine Craft Guild , , Work it Wednesday, Thursday's Temptation, Hookin' Up With House of Hepworth's, Live Laugh Rowe Live Laugh Linky, Transformation Thursday, Thursdays Are Your Days, Real Family Fun, Pinterest Power Party,, The Weekly Creative , Party Junk, Pinworthy Projects , Weekend Wrap-Up Party, Weekend Bloggy Reading, Strut Your Stuff Saturday, Spotlight Saturday, Get Schooled Saturday, Overflowing With Creativity , Sundae Scoop , Suburbs Mama , That DIY Party