Scandi Neutral Christmas Tree Decorating Ideas
Scandi style Christmas tree decor ideas using neutral ornaments, brass bells, and a DIY dollar store snowy 'garland'!
This fall has flown by and December is already upon us! For the first season in ten years, since starting this blog, I haven't shared a ton of seasonal content this Fall. It was partly due to the busyness of life. Partly because of some health issues I was having. And, partly stemming from the fact it was so warm and sunny until mid October that I wasn't inspired to decorate for Fall! BUT… the snow has arrived, and Christmas is on the way. Time for some Christmas tree decorating ideas, amiright?!
I'm really excited to finally be back today sharing the first of my Christmas ideas posts with you! This Scandi neutral Christmas tree decor just might be my favourite EVER! Or…do I say that every year once I get the tree up? But truly, I've tweaked last year's tree and love it even more than ever with the addition of some cozy brass bells and wooden ornaments. I think you'll enjoy these ideas to help inspire your tree design this holiday season. 
More Christmas Tree Decorating Ideas for you!
Today I've joined some blogging friends who are also sharing their Christmas tree decorating ideas, so be sure to visit their posts to check out their ideas. I've linked to them all at the bottom of today's article. 
Our Christmas Decor this year
This year I decided to cut back a lot on the amount of Christmas decorating that I do, and we will only have one (or maybe two?) Christmas trees instead of the SIX we had last year. I know, right, it WAS a bit much! No wonder I felt burned out!
I'm keeping our decor more contained and must using the things I really LOVE and feel like fits with our new house. I'm also integrating it more than ever into our regular colour scheme (did you see my recent REEL on Instagram sharing our new dining room mural?! That's the colour scheme of our space). Anyhow, I love the cozy feel of our great room decorated for the holidays this year, and can't wait to share my Christmas tour with you next week!
Scandi Neutral Christmas Tree Decor with a Snowy Garland DIY
For today, I'm sharing a look at my Scandi neutral Christmas tree decor that sets the tone for a cozy holiday season spent in our family's great room.
If you are wondering how I got the 'snowy look' on this tree, it's using feather dusters from the dollar store! 
Check your local dollar store for the feather dusters on a stick, remove the stick, curve and fluff, and tuck into your tree. Voila!
Yup, I've got a whole tote full of these babies and they are my favourite tree "accessory". Item? Not-an-Ornament. Psuedo-garland?? Anyhow, they're such a fun and cozy touch!
Don't you love what they add? 
I used many of the same ornaments that I shared in this article last Christmas, but brought in a few new finds that I adore. Specifically, these brass bell garlands that I found at Michael's are my favourite find this season.
I always eschew a traditional star or angel on the top of our trees and like to add some decorative picks instead – these white snowball ones are a cute and modern touch.
The only ornaments that are new are these sweet little wooden Christmas trees. I love the Scandi feel of them.
I carried on with the Scandi feel through the gift wrapping (and yes, for once, those are REAL actual gifts under our tree at the start of December!). You can learn how to download my Scandi Farmhouse Christmas Gift Tags here. 

I can't wait to share more of our home decorated for Christmas next week. I'm loving this space so much more since I gave the walls a fresh coat of paint (no more bright, stark white in here). If you follow me on Instagram, you may also have seen my stories as I added a fabulous mural to the dining room (sneak peak below!). 
How to Create this "Look" on Your Tree
Elements to include:
And now, don't forget, that my friends are sharing their beautiful Christmas tree decorating ideas with you today as well. Be sure to visit them by clicking on the links below the collage image…
Blogger's Best Christmas Trees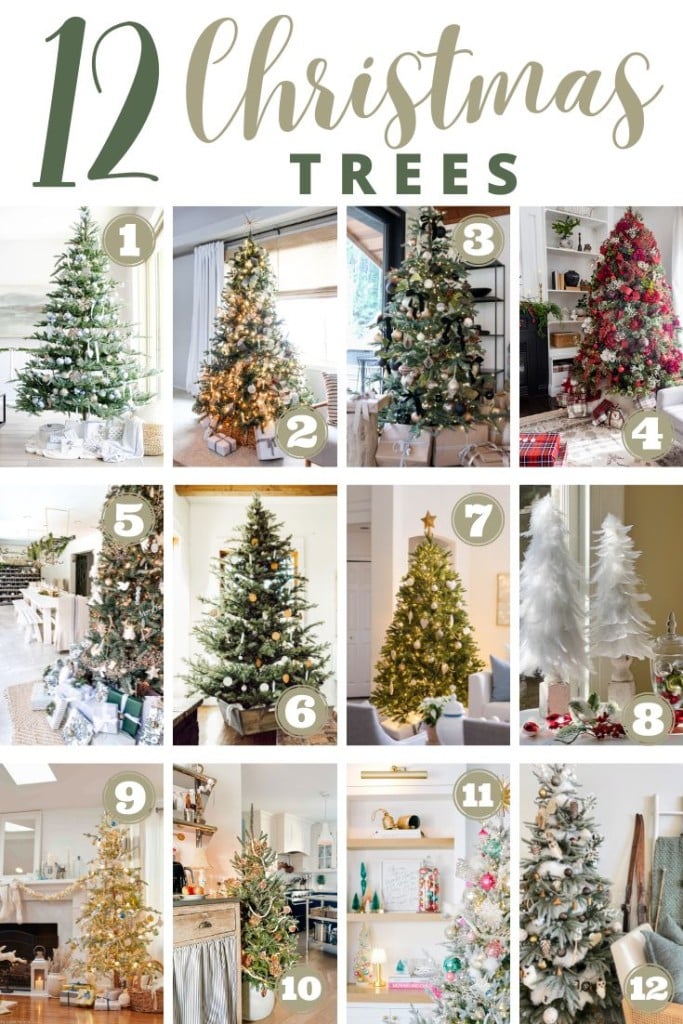 Some of my Christmas trees from year's past…